Repairs & Restoration
We repair new and antique furniture.  We have years of expertise in repairing and restoring furniture for our domestic, business, hotel and nursing-home clients.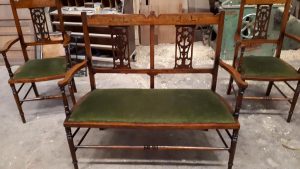 Our work has included repairing and restoring dining chairs, armchairs, Queen Anne fireside chairs, chaise lounges, tables, footstools, exterior and interior doors, wardrobes, chest of drawers, office desks, hotel  & bar tables & chairs and nursing home furniture etc.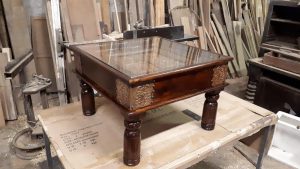 We will initially inspect your furniture and advise whether it can be repaired or not.  Our aim is to restore your furniture to "as good as new" where possible.
French Polishing
French Polishing is a wood finishing technique commonly found on antique furniture dating back to the Victorian era.  Here at Browne Furniture & Antique Restoration Cork we draw on the expertise of three generations of French Polishers to expertly repair and restore your antique furniture, using only the finest French Polishes and Lacquers.
Some of our French Polishing and Lacquering services include:
Full strip and re-polish work
Colour matching
Reviving tired and faded finishes
Touching up scratched, damaged or chipped pieces
Other services available.  Please enquire for details.